Griffin's Kajukenbo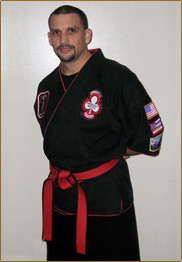 Grand Master Russell Correia - 9th degree black belt
I have come to the understanding that the Martial Arts Training that I have endured through the teachings of Senior Grand Master Griffin has resulted in a life changing experience that goes beyond explanation. This system has yielded growth in all areas of my life and has far exceeded my expectations of what I would learn. Martial Arts training is a personal journey that each and everyone one of us owe ourselves. It is what you become through it that makes this system of martial arts a true blessing.
Martial arts has given me the ability to persevere and rise above the individual challenges of life. The physical, mental thought and spiritual development that this program delivers has allowed me to continue to become the individual I was created to be.
I believe with all my heart that those who enter into this program with a true willingness and open mind to learn will find a home just like I did so many years ago. The thread in which we find a gem like this program is often quite thin. For that reason, when you embrace what this system stands for, you will understand that there was no mistake that you ended up part of The Griffin Ohana.
I encourage you to visit one of our locations and get started. You will only truly understand what this program can mean, if you take that first step.
"To whom much is given, much is expected"